About Central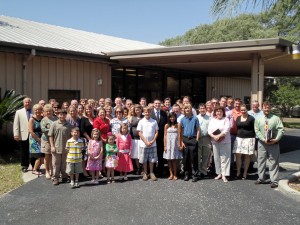 We at Central are glad you are interested in our church family and hope that you will find what you are looking for at Central.
The Central Church of Christ is a vibrant family of God in Central Florida north of Orlando. Our family consists of all ages, backgrounds and experiences. We have the joy of our young ones and the wisdom of our active seniors. We are a people who strive to serve God and we honor God by following the bible. We know that only the bible has the wisdom of God for man in all things. We seek to be a place open to all people because we believe every person is precious to the Lord.
God cares about people and their needs and so we as His family are committed to serving people. We honor God and Jesus as Lord not only in our worship services but in everything we do. Simply put, we want to be about two important things. Passion for God and compassion for people. We believe we should live for Jesus and help others to do the same.
Here is what you can expect at Central Church of Christ
A positive worship service with a practical message from the bible.
Classes that challenge our children and helps adults to grow in the grace and knowledge of Jesus Christ.
A place that is full of love, kindness and support.
A people involved with outreach, benevolence and evangelism.
Learn More About Us
Click the links below to learn more about us…